JACKSONVILLE BEACH DECK THE CHAIRS RETURNS NOVEMBER 22, 2023 – JANUARY 1, 2024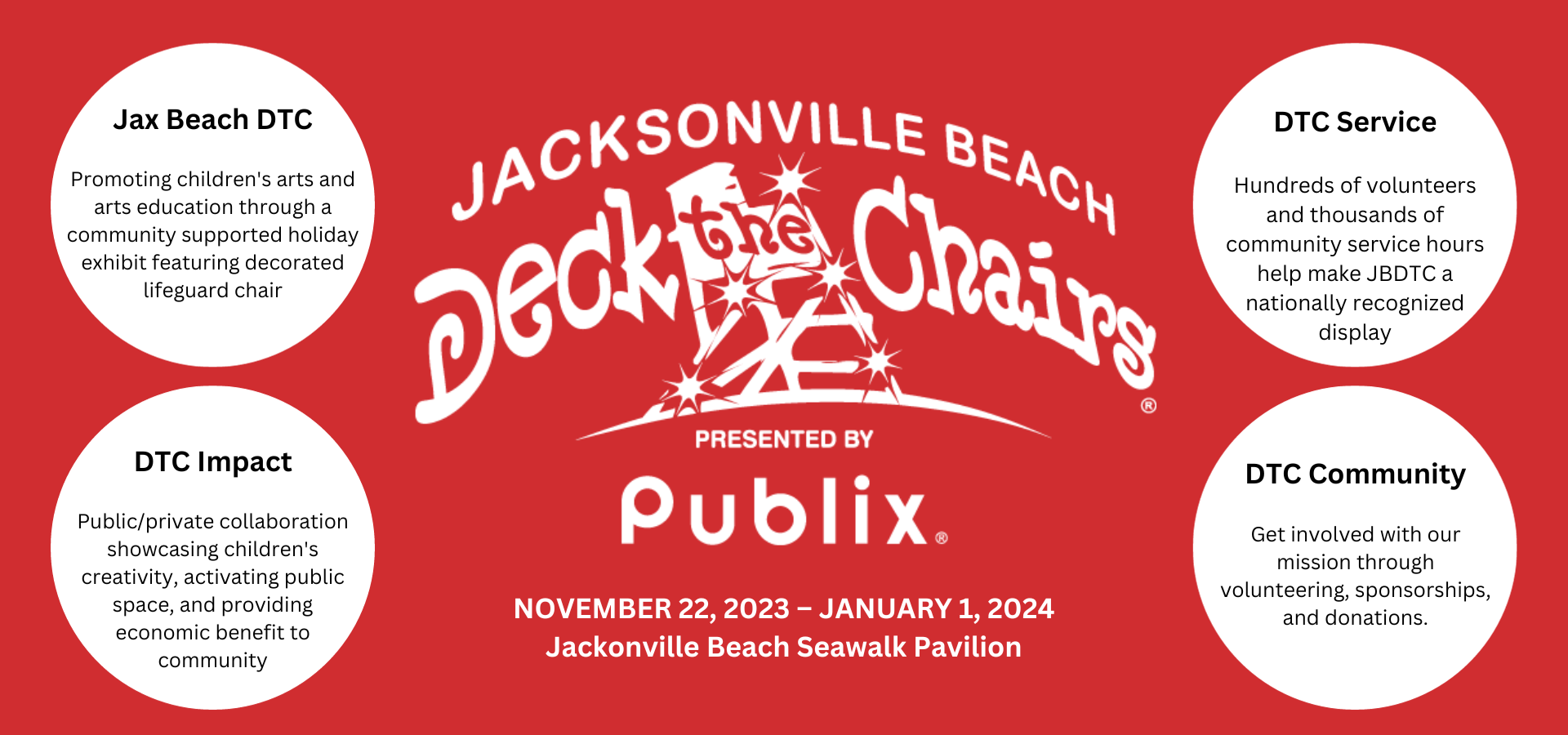 Deck The Chairs is FREE and open to the public with lights displaying nightly from 5PM-1AM. Handicap Accessible and dogs are allowed.
In addition to the nightly display, there are some key events throughout the event...
Wednesday, November 22, 5PM - Opening Night
Introducing Unite with Lights Student Exhibit at Deck The Chairs
Civic Orchestra of Jacksonville
Chair Decorating Voting Kicks Off
Sponsor Recognition
Friday, December 1, 7PM - 9PM - Moonlight Movie presented by City of Jacksonville Beach and PRI Productions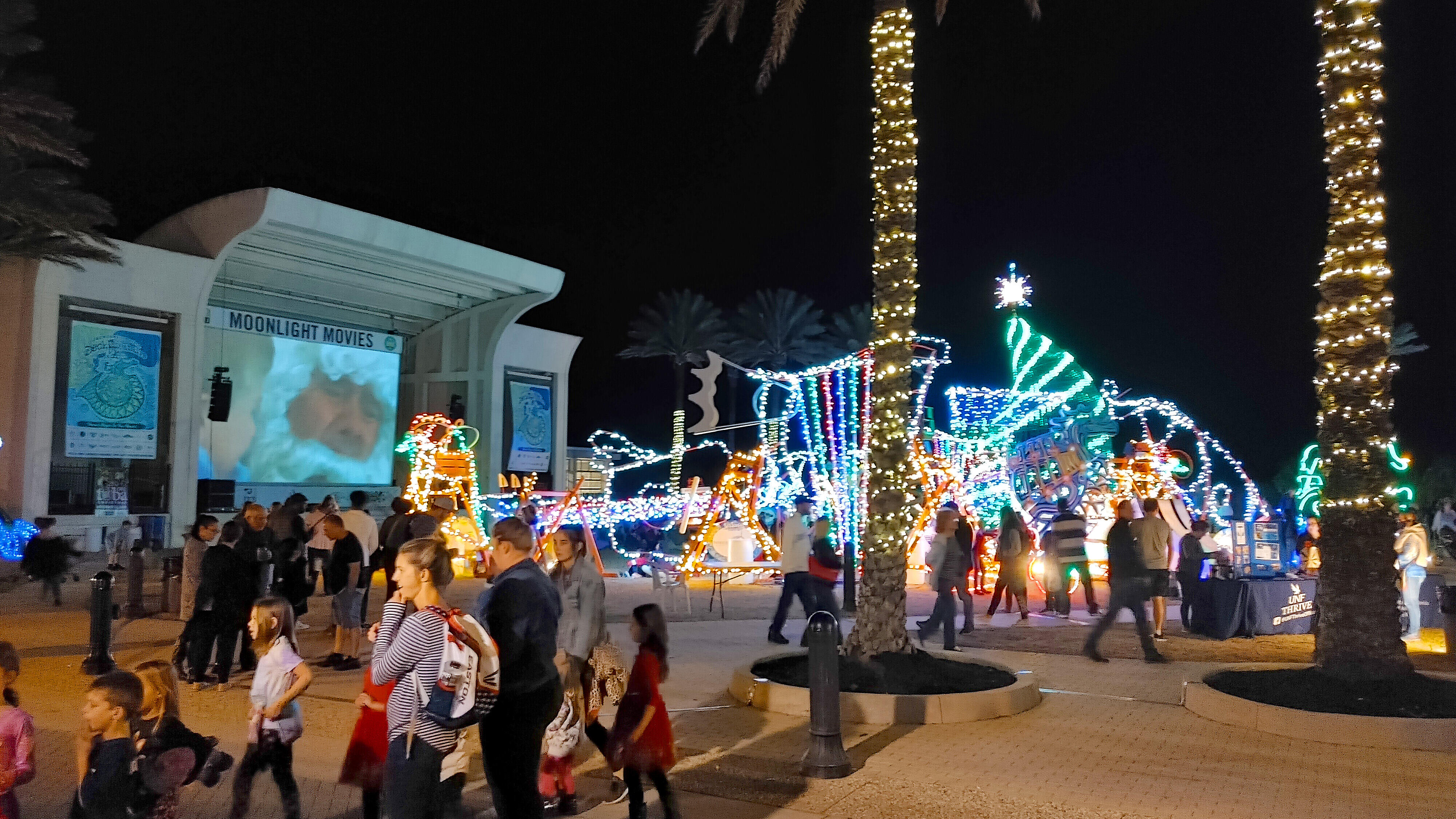 Saturday, December 2, 3PM - 6:30PM - Music & Dance Program l presented by Fusion Light & Sound
Jacksonville Suzuki Strings
Pine Forest Dance Ensemble
Dansations Ensemble
Synergy Dance Company
Dynamics Dance
Ballet Arts Centre
Sunday, December 3, 3PM- 7PM - Music & Dance Program ll presented by Fusion Light & Sound
Twofold
Bravo School of Dance
Fort Caroline Dance Ensemble
Switzerland Dance School
Fletcher Middle School Dance
Parker's Lab Band
Saturday, December 9, 1PM - 7PM - Music & Dance Program lll presented by Fusion Light and Sound
Tuba Christmas
Atlantic Coast Dance Studio
First Coast Centre for the Arts
Scott Jones School of Dance
Nancy Dance
Level Up Dance
Showtime USA!
Saturday, December 16, 1PM - 7PM - Music & Dance Program IV presented by Fusion Light & Sound
*2:30PM - 3PM will feature the DTC Chair Awards and Student Exhibit Awards
Navy Band Southeast
Fletcher High School Dance Team
Fascination Rhythm Studio of Dance
World of Dance
BLA Dance Academy
Academy of Dance
SET Studios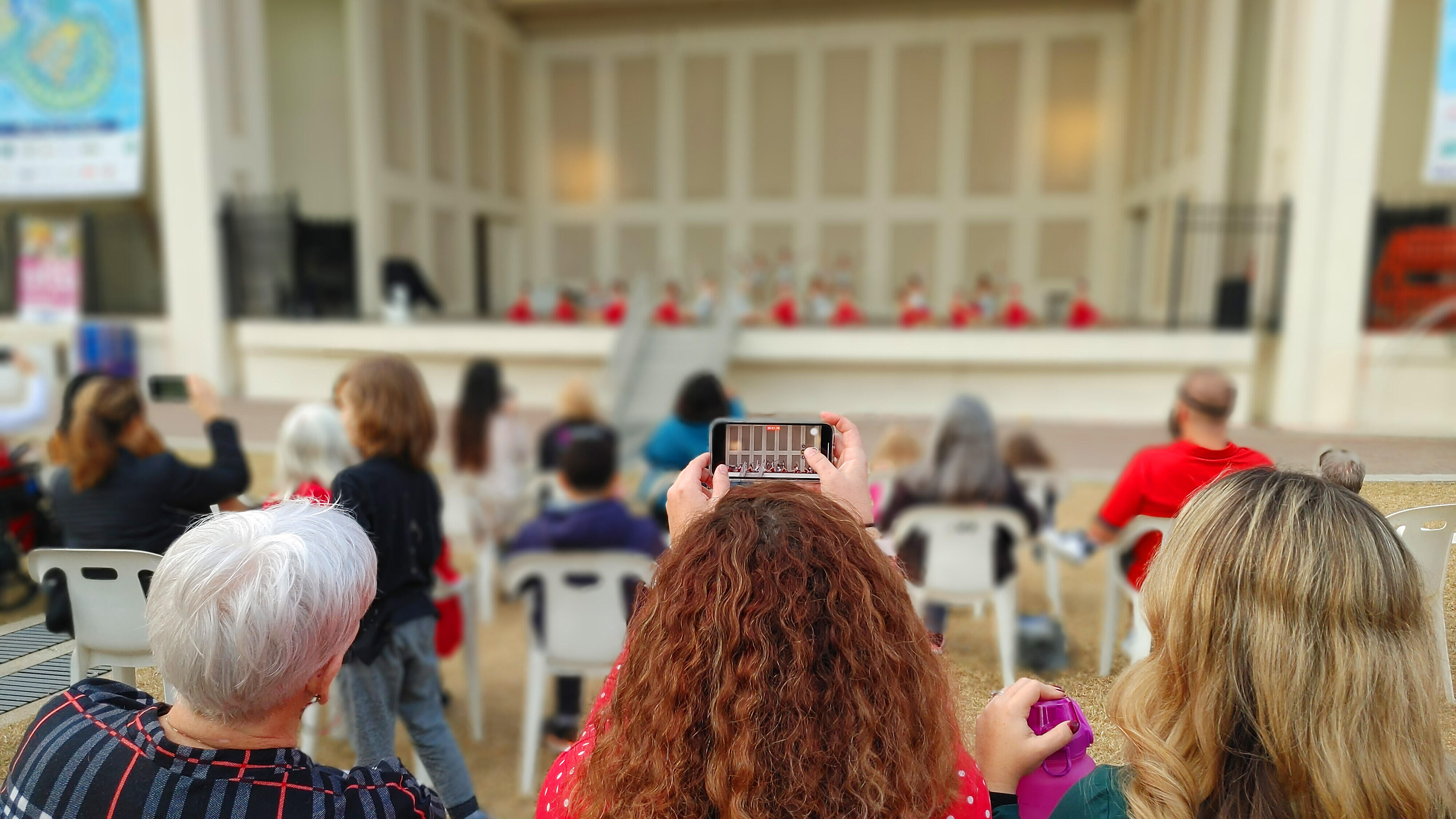 Sunday, December 24, 5PM - 7PM
Christmas Eve Service Presented by Ocean City Church
Concessions Closed Christmas Eve & Christmas Day
Thursday, December 28, 5PM - 7PM
TaxSlayer Gator Bowl Pep Rally
Additionally, Deck The Chairs has invited area middle schools and high school art programs to participate in Unite With Lights, with two student exhibits this holiday season. The three-month in-school decorating project will feature students' creations at:
James Weldon Johnson Park December 6, 2023 - January 9, 2024
Jacksonville Beach Seawalk Pavilion November 22, 2023 - January 1, 2024
Visit DeckTheChairs.org for more info